Notes From Our Clients
Worth Shouting About!
We don't want to brag, but our clients are totally awesome!


"Hard work has made Legacy one of the best!" Take a look at our testimonials to see how Legacy
works hard to fully understand the client's needs and carry out the best estate sale service in the Tampa area!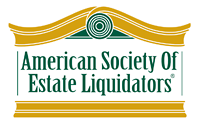 The American Society of Estate Liquidators was the first and is the largest accrediting organization for Estate Liquidators. Since 2001, ASEL has been leading the way towards propelling the estate liquidation industry forward through empowering excellence. They continue to raise the standards in an industry that is unregulated, resulting in a reputation of being a trusted resource to consumers and professionals alike as a professional trade organization.
Legacy Estate Solutions is proud to be certified by ASEL as Professional Estate Liquidators. Legacy is one of the few estate liquidators in the Tampa Bay area that meet ASEL's requirements to be certified.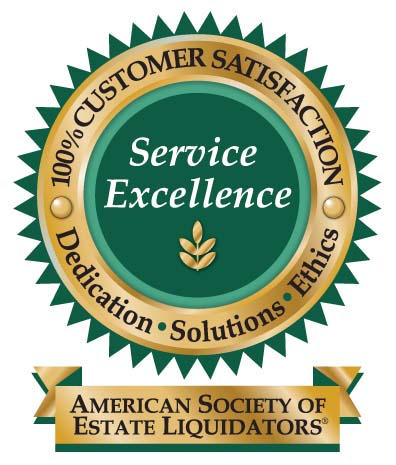 - Bill Ryan and his company, Legacy Estate Solutions should be at the top of your list if you want a complete solution to your estate sale needs. We hired Bill and his team to take care of our mother's estate recently. Bill came out, met with us, explained how his company would handle everything and then proceeded to do everything he promised. In fact, he completed the job in our absence since we live out of state and had to return home before everything was settled. He and his company are, professional, organized, very hard-working, smart and conscientious. Most of all they are trustworthy. Any negative reviews are highly suspect, we were very pleased with Bill and his company and highly recommend them.
~ Doug Batchelor
Thank you Bill
We sure appreciate your sales the most! You always have the best!
~Diane and Dennis Garcia💗
We chose Legacy Estate Solutions to handle our estate sale in Apollo Beach, Florida in November of 2019. Boy, am I glad we did. We had never had an estate sale before and didn't know exactly what to expect. Bill and company did a terrific job in all facets of the sale. They let us know what to expect in the process beforehand. They did a great job of displaying and pricing the sale items. They brought in lots of buyers. They paid us very promptly. We cleared more money that I thought we would. It was an altogether pain free and professional job. And Bill and company seem to be very honest, very friendly, and very knowledgeable. If I would ever have another estate sale, I would choose Legacy again.
My family and I would like to thank you and your crew for cleaning out my sister's house in Valrico. I know it wasn't a pleasant job and the fact that you worked on Sunday to complete it shows how dependable you are. We are grateful that Dick and Karla Nielsen recommended you to us.
~ Becky Westphal
My sister and I cannot thank Bill Ryan and his wonderful team for all their hard work. It sure made our lives easier. We just got out of their way and they took right over and we never had to lift a finger. We are very lucky we found Legacy and Bill Ryan.

~
Elizabeth R.
"Bill Ryan's

advice & expertise in estate sales was invaluable when we were moving. We were going through a significant downsizing & needed assistance in deciding what to keep, what to sell and what to donate. Bill's knowledge & experience really helped us through a stressful time. We recommend Bill's services for your next move."
~ Catherine & Kevin



Bill:
"I would recommend Bill and his staff to anyone seeking an estate sale/liquidation, particularly those living a significant distance from the premises. He set realistic expectations during our initial meeting and kept me abreast of all developments. The house was cleaned, as promised, and Legacy even turned in my dad's cable and internet equipment. Thanks, again, to Bill and his staff. Very professional and trustworthy!"
~Werner
Hello Bill,
I would like to thank you and your company Legacy Estate Solutions for conducting an excellent estate sale on my brother Jim's estate. My brother David and I were very pleased that we could see the set-up on the internet. Your staff did an excellent job presenting all my brother's items. You went above and beyond looking for some items that we had neglected to collect or find. Since we were both out of town, you had to send an item to my brother.
I was glad that you notified the neighbors ahead of time as to what to expect the two days of the sale. Apparently your company has a great many followers, as there were hundreds of people who went through the house.
You left the house totally empty as you promised and also vacuumed.
You have a very professional company and we highly recommend it.
Sincerely,
- Lynn Trau and David
Bill,
Just wanted to say thank you for everything you and your staff did for my mother's estate sale. The setup was organized and after everything was sold and cleared out, the villa was left very clean. Payment for all items sold was received in a timely manner. Kudos to you and your staff for a job well done.

Thank again for everything.

~ Diane T. Lambos, M.A.
I highly recommend Legacy Estates Solutions! The compassion, professionalism, integrity, and expertise that Bill Ryan and each member of his team displayed throughout the entire process was beyond incredible. From the initial interview, to the handling of the estate items, to the final payout Legacy Estate Solutions were by my side making a difficult
process much easier. I truly do not know how I would have done it without them!

~
Tara Garlitz
I just wanted to thank you for your assistance this weekend with our purchase of the Grandfather Clock. It made it to our home safely and my wife's dream of owning one since she was a child was finally realized. You were very informative regarding the operation of the clock and also how to transport it. We just might see you again at another estate sale. Take care.
Bill!
Bill
,


Subject: Re: Legacy Estate Solutions presents a charming southern style estate sale in the historic district of Dade City.

I was there this morning, it is near my house, great job by everyone

~ Lilly Hollingshead



Bill,
We congratulate you and you team on the efficient, polite but humorous manner you all handled the sale of the contents of our holiday home. Your service eased our sale through to closure taking most of the logistical pressures from us. You and your team seamlessly fitted in with the parameters coming from our personal requirements and timings to ensure we had a relaxing week at the beach before catching our plane back to the UK with our house sold and contents disposed of.
We were also impressed with your efforts, after we returned to the UK, to ensure our funds made it across the ocean and into our account.
We would have no hesitation in recommending your company and services.
Mike and Dot Klinkenberg.
From: Pam Kaplan
Sent: Wednesday, January 10, 2018 12:04 PM
To: Bill Ryan <Bill@legacyestatesolutions.com>
Subject: Thanks for everything!
Just a short note to thank you for putting on our estate sale for my Mom. You handled her home and her belongings in a very professional and respectful way. Your staff was very courteous to me and also assured me my Mom's belongings were their top priority. I would highly recommend you to other families in my situation. Again my thanks! you did a great job.
I received the information on Legacy Estate Solutions from another agent here in Hernando County. They did such an amazing job for my out of state sellers. From the initial contact to being sure to get everything, and I mean EVERYTHING, out of the home, they were very friendly, professional and easy to work with. Anyone who has ever had to deal with the aftermath of the passing of a family member knows there is just so much to do... Not to mention all of the things they have on their plate from their own lives. Legacy Estate Solutions is the answer to streamlining the process and having the right people on your side! I will continue to recommend them to anyone and know they will do a FANTASTIC job! Thanks so much!
~ With gratitude,
Michelle Humbles
Tropic Shores Realty
(352) 234-6588 Direct
(720) 431-5044 Cell
"Dedication that MOVES you"

Dealing with Legacy Estate Solutions was better than we could have hoped for. Bill Ryan and his team were wonderful. Efficient, organized and very compassionate. They made an emotional situation very easy to deal with. What a great job they did!
I am so happy they were available to handle the sale of my mother's "treasures".
Could not have asked for a better job.
Thank you to Bill and his staff!
~ Karen Buscovich
Bill:
My wife and I thank you and your staff for your understanding, kindness, and professionalism extended toward us through the entire estate sale process. We were very pleased in how smooth everything went. We both pray for God's blessings upon you and your business as you continue to be one of the most honest and trustworthy people that we have been blessed to know. Thanks again for everything.
Hi Bill,
I just wanted to thank you for the great job you and your team did on my mother's house (sale). I was there last week to look at the place and was very pleased."
~Linda Miller
POA for Mary Pate
Brooksvile sale January 6th 7th and 8th 2017
Thanks, Bill.
Glad to hear it was productive. One of my Mom's friends called me to say that her daughter went to the the sale not knowing it was my Mom's house. She lives in Tampa and follows your sales online. Small world!
Sounds like we're heading for the finish line. We really appreciate your work.
~
Linda
Christy, who works with Bill Ryan, is an extremely efficient staging and pricing person for the Legacy team. She is pleasant to work with arranging our furnishings for sale. I recomend Legacy Estate Solutions highly.

~
David Bonney, St Petersburg, FL
Bill,
Larry and I just want to say thanks to you and your team for managing our Estate Sale. We felt safe in your hands and it took a great deal of stress off my shoulders during this period of grief. Your team of workers, (a special mention of Anita) worked so fast and professionally, we were amazed. I was especially pleased that several items the workers thought were personal or sentimental were set aside for me. Again, thank you, and Merry Christmas!
~ Sherry Churchill


Bill
Working with you and your team members was better than I ever could have dreamed. You were fantastic and I cannot tell you how much we appreciated everything you did. It was a very stressful time for us and you made it so much less stressful. I can't even begin to put a value on what you did.
Thank you so much.
~ Paul Pisano
Hi Bill,
Just wanted to drop you a line and let you know how pleased I am with Legacy Estate Solutions. While other estate companies wanted to put me off for a month or more, your people jumped right in there and got the job done. The house is completely empty and ready for the Realtor to show. Being from out of state, it was important for me to have someone on site I could trust to get the task done. You took all the headaches of a very big job away from me and I'll forever thank you.
Thanks again Bill. I would recommend your service to anyone.
~ Dan Rose
Hi Bill,
Thank you for doing a great job for Maureen. Our website address is dananddebrealestate.com Thank you for adding our website to your website.
I will highly recommend you to my clients that are in need of your services!
~ Dan Milchner, CNE
813 294 6013
Keller Williams Realty
Connecting Buyers and Sellers for 21+ years
June 1, 2015

Bill -

I j
ust wanted to thank you for being our HERO last week. We had originally tried to use another company but they stood us up and you came to our rescue on such short notice: 2 hours and the work was already being done. We knew you were a professional from the moment that we opened the door!
We are so grateful that you came to our assistance with a couple of different solutions.
And it was actually fun getting to know the three guys who completed the job. If you get a chance, please forward me their contact info.
I'd like to send them a personal note.
We can't thank you enough.

~
Debbie




Subject: Re: Sale Stats for 4416 West Lawn Avenue (1091727)


Thank you for all of your help. You provide a great service.


~Take care -
Sandra






Dear Mr. Ryan,

I wanted to thank you, and your staff, for the excellent work provided by Legacy Estate Solutions in clearing out my step-mother's home as we prepared it for sale. The task of cleaning out a home is overwhelming, and in our case we had some deadlines to meet, but at all times I was confident the job would be handled carefully and professionally. Often times people try to put a dollar value on their sentiment of an item, but your staff was realistic (and tactful) when it came to sorting through a lifetime of household items and determining what really was valuable It was a pleasure to meet Valerie and see her in action as she prepared items for sale. Her knowledge of valuable items vs. the everyday trinket was impressive. She even rescued a few personal treasures for me that I did not know were in the home!

While my step-mother's health prevented her from being a part of this proves I know she will be pleased with the results. I have already recommended Legacy Estate Solutions to two people, and that was even before the sale took place! Please extend my thanks to your staff for their hard work, and patience with me, through this process. Thank you again for providing excellent service and seeing us through this task with patience, professionalism and even a few laughs!

~ Sincerely,


Pam Anderson




Lordy Bill,

From what I hear the sale was the event of the year!!!!! I have gotten e-mails from friends that did not know that it was mom's home, or that I owned it after her. It seems that if it was not nailed down, it sold!

~Thanks,
William Latson
- Dade
C
ity, FL, Estate Sale



Marci Schmid Melzer -
5 star These folks are the best at helping families! They are incrediblyknowledgeable and effective! Val is amazing! She actually made one the most difficult (and gigantic) tasks of my life fun! You should definitely use this company to maximize your profit
.



Richard J. Olson reviewed Legacy Estate Solutions - 5 star

Hard work has made Legacy one of the best! Keep them in mind when you find an estate sale would fit your needs.




To Bill Ryan and All at Legacy Estate Solutions:

You and your Team are an exceptional group of individuals that carry a great deal of pride, professionalism and courtesy in your work ethics.
When it came to assisting with an ailing neighbor who needed an Estate Sale so quickly you stood up and made the process so easy.
It was such a pleasure meeting you and your Team and making it feel like a family unity. You are to be commended for a job well done.
Larry Dean Sturgeon
Secretary - Withlacoochee Chapter FLSSAR
Sons of the American Revolution
Spring Hill, Florida 34609-5215
To Bill Ryan and the entire Legacy team:
From first day to last, an estate liquidation is never a carefree jaunt through a field of daisies! It's hard work separating the sellable from the denotable and merely disposable, in room after room of a home. It's even harder work marking thousands of estate possessions with prices that are reasonable enough to lure buyers, yet significant enough to mollify hovering family members. And then comes the title wave of buyers that appear as soon as a home's door opens on Sale Day Number One. - It's enough to make some estate liquidators go weak in the knees! But not the folks at Legacy Estate Solutions.
Their stamina, pricing knowledge, tenacious effort to find a buyer for every estate item, and their unshakable, good humored confidence make them the ideal professionals to turn to on that day you suddenly find yourself asking ..."How am I ever going to clear everything out of this house?!" I recommend them highly.
Sincerely, Glenn Scheuer
Good morning.
Thank you for running some of the most well organized and efficient estate sales in our area! So many people are grateful to you for what you do!
~ Amy
Bill Ryan met with us twice before the sale and he was a professional in handling our situation. I was not able to be at the sale, but the results were more than satisfactory. I would recommend Mr Ryan and Legacy for any future needs in estate sales.
~ Louis Palmer
Loved the way pricing was clearly displayed.
~ Thanks - Jeff P.


Very well organized and professional sale.
~Regards, - Chloe K


Great Sale.
~Thank you very much - Sigmund A


Excellent staff. - Debbie T


Friendly happy staff that were willing to help. Looking forward to your next sale

Very clean and friendly with lots of items.
~Thanks - Laurie and Michele D



Good people and quality staff.
~ Thanks - Curtis O


Loved everything, tons of stuff. - Althea G.

Professional and pleasant staff. - Gary M.

Organized very well. Very good sale.
~ Thanks - John L